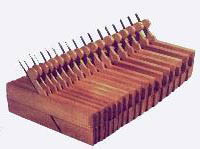 Clark & Williams approach to plane making is simple - make the best planes possible, using the best materials available, and adopting designs that have stood the test of time for a couple of centuries or so. After all the basic design for hand planes has been around for about two thousand years or more - ever since the Romans first started knocking them out of ancient workshops - but around 200 years ago the planemakers of the day must have got their collective heads together and started to standardize sizes, shapes, materials and designs.
That's not to say that the handplanes that Clark & Williams make are stuck in the past. Quite the contrary in fact. For one thing the plane makers of 200 years ago didn't have access to the excellent tool steels we now have today.
It's hard to argue it, but there's something special about using wooden planes. They have a feel and a tactile quality that's almost unmatched by other tools. They instantly telegraph all the nuances and properties of the wood being worked in a way that metal planes have never been able to equal. Their whispering sound often conjures up a feeling of satisfied accomplishment and a more than remote connection to age-old craftsmanship.
Bill Clark & Larry Williams share these very same visions, as their business represents a combined total of nearly 50 years of professional woodworking knowhow. They've spent the last 15 years working side-by-side with a competitive spirit, trying to do each job better and more efficiently than the last. This, in turn, has led them to depend heavily on traditional tools.
Before the beginning of the industrial revolution, and the compromises made with the introduction of mass produced items, there were thousands of plane varieties and options available to the cabinetmaker or joiner. Planes could be obtained that were specifically matched to the methods and materials typically used at that time. Clark & Williams intent is to offer those very same custom options in planes skillfully crafted one at a time. They strive to use historically accurate details, and thier handplanes have been warmly received by knowledgeable wooden plane collectors at some of the major tool collecting events throughout the U.S.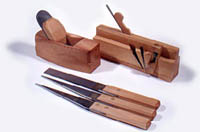 They have, on occasion, been asked by several well known collectors to date their planes to avoid future confusion amongst the plane collecting fraternity. With this in mind, each plane is now stamped with the year in which it was made. The company has a fondness for the refined details of early British wooden planes but can work in Colonial and later styles.
In December of 1999 Historic Mount Vernon hosted the official bicentennial reenactment of George Washington's funeral. For the event, Walt Henderson - of Henderson & Vinci Historical Cabinetmakers and Joyners in Leesburg, VA - was selected to reproduce Washington's coffin and other funeral implements. Mr. Henderson skillfully met the challenge and used a number of Clark & Williams tools on the project.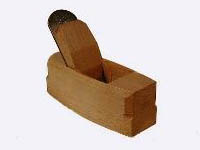 It should be noted that these tools are made using traditional techniques. Almost invariably the plane bodies are made of hard-wearing beech wood and the escapements and other details are painstakingly made entirely with traditional plane making hand tools.
As a sideline to their planemaking business Clark & Williams also make and sell traditional planemaker's floats (seen in the picture above). These tools are difficult to obtain on the secondhand market so to be able to get them new - and made from modern tool steel once more - is an absolute boon for like-minded planemakers around the world.
As far as modern tools are concerned though it should be said that the use of power tools is reserved for the rough preparation of individual plane billets, and the milling of the taper on the O-1 tool steel irons, before they're carefully heat treated and tempered in a computer-controlled furnace. Everything else is created in their workshop in Eureka Springs, Arkansas.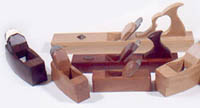 Should you have the opportunity to try out one of the range of planes from Clark & Williams I would strongly advise that you do. At around $260 dollars each they're not the cheapest planes around but they are good value for money nonetheless. Needless to say you're sure to be impressed with the quality, feel, look and performance of Clark & Williams planes.
For more information check out the Clark & Williams website at www.planemaker.com.