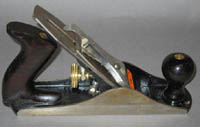 The Stanley Plane - A benchmark in metal hand planes for the past 140 years.
For the beginner, choosing which type of hand plane to buy first up can be a daunting task. Furnituremaker Wesley Johanson looks at what's available in hand planes and offers some helpful advice along the way.
Arguably no other tool symbolizes the fine art of woodworking quite like the hand plane. Machines and power tools are great for dimensioning large pieces of timber quickly and efficiently, but a sound knowledge of how to use hand planes and other hand tools can mean the difference between a casual woodworker and a true craftsperson. Properly cared for and maintained, good quality, well-made, hand planes will last a lifetime and beyond of whatever woodworking chores you happen to throw at them. Whether it's on the job framing of houses and other buildings, trim carpentry or the most delicate of woodworking needs.
It should be noted that, properly tuned, a hand plane will also leave a much better finish on the wood that you're working on than any machine or power tool could ever hope to accomplish. Some woodworkers don't even bother to use sandpaper on their work, instead leaving a glassy, smooth finish done purely by hand planing.
A bench plane can be used for a variety of jobs around the workshop, from the cleaning and surfacing of lumber to the jointing and edging of boards and the squaring, cutting and fitting of joints. With companies such as Veritas and Lie-Nielsen, not to mention the many smaller makers of quality hand planes, the future looks bright and the development of the hand plane as we know it becomes better and better.
Choosing Planes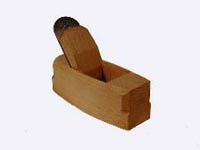 All wooden, coffin-sided smoother plane by Clark & Williams.
It's not always easy for beginners to choose good quality hand planes though (sometimes it's not easy for seasoned professionals either!) There are a lot of different types and brands of planes on the market - some good, some bad, some indifferent. Not to mention the huge array of planes that can be found secondhand at places such as eBay, antique stores, garage sales etc. How do you know what is a good plane and what isn't? Furthermore, how do you know what type of plane is best for a particular purpose? The short answer here is to do your homework. Borrow books or magazines from the library, check out some sites on the internet and, above all, keep an open mind. Two people will tell you three or four different things so it pays to take things with a grain of salt. Try to read as much as you can and from different sources, and that way you'll be better equipped to make your own decisions.
Now it goes without saying that each plane has its own special use and function but, generally speaking, hand planes can be categorized into two main groups - bench planes and specialty planes.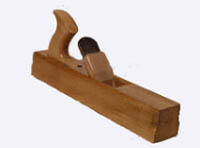 Clark & Williams jack plane.
Bench planes, whether they're made of metal, wood or plastic (in the case of the Rali brand planes) have flat soles and wide blades and are used for surfacing the faces of boards, squaring, jointing and leveling. These particular hand planes have names such as "smoother", "jack", "fore", "panel" and "jointer", which describe the type of work they're used for. The length of the planes can be anywhere from around 8 inches right up to 24 inches or more, depending on the type of plane. The blades are usually set at around 45 degrees, so that they're useful for both softwoods and hardwoods. This angle is a compromise, however, as other angles - higher or lower - are better for certain jobs. Still, 45 degrees is a good "all rounder" for most work.
Shorter bench planes, also known as block planes, have their blades set at lower angles - usually between 12 and 25 degrees - and are particularly good for trimming end grain. Specialty planes, on the other hand, usually have narrower soles and are used for molding the edges of boards, rabbeting and plowing grooves in timber. There are a vast number of different planes in this category and the blade angles of these planes vary considerably. Some are higher than 45 degrees while others are lower.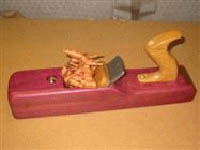 Razee style plane from Knight Toolworks.
Although it really depends on what you're going to make, to be able to do most planing jobs you really only need a few hand planes. The first should be a jack plane or a smoothing plane. Both of these planes are virtually interchangeable, though the jack plane - at between 13 to 16 inches long - is a bit more versatile as it's short enough to do many smoothing jobs, yet long enough to be used as a short jointing plane. The Stanley #5 plane is a good example here.
If your first plane is a jack plane then your second should be a block plane. At around 6 to 7 inches long these compact planes are great for end-grain work and smaller jobs such as rounding over edges and trimming joints.
Your third plane should be either a smoothing plane or a longer jointer plane. Smoothing planes are 9 or 10 inches long and are primarily used for smoothing the faces of boards. Jointers on the other hand are between 20 and 30 inches and are used to flatten the edges of boards so that they can be joined side by side to make a wider panel. Think of your average table top to get the picture here.
After choosing the first 3 or 4 bench planes for general work you can now start thinking about one or two of the more specialized planes. The most useful type here would be a rabbet plane, such as a Stanley #78 or a wooden equivalent, and a plow plane, such as a Stanley #46.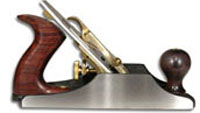 Number 4-1/2 smooth plane by Lie-Nielsen.
These planes can make short work of your rabbeting and dado work and are useful for making lap joints, mortise and tenons, framed panels and a variety of other jobs - including the roughing out of more complex moldings before using hollows and rounds.
As mentioned though it really gets down to what you intend to make. If you're making furniture then you'd probably be better off going down the jack, block, jointer, smoother, rabbet and plow trail. If, however, you're going to be making boxes and other small items then you might not need a jointer at all, and it may be better to consider a smaller plow such as the ones made by Record Planes in England. Instead of a rabbet plane, a smaller bullnose rabbet may be more suitable?
Blades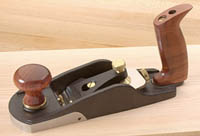 An innovative looking, low-angle bevel up plane by Veritas. A marriage of block plane meets smooth plane.
Whichever plane you buy (unless its a high quality one) it is probably a good idea to get a good aftermarket blade such as those being produced by Hock Tools, Lie-Nielsen and Veritas. These thicker and more substantial blades help in reducing chatter and can be fitted to many Stanley type planes as well as wooden ones. They are also made of excellent quality tool steel which will hold a keen edge for a longer time. If you have an all wood plane, or you're considering making one, then you might want to consider using a good quality Japanese blade.
Don't discount some of the older, thicker blades either. Brands such as Mathieson, Marples, Sorby, Ward and others are usually great value for money and substantially cheaper than quality new blades. Parallel blades are harder to find nowadays and command higher prices but even tapered blades, made to fit in wedged wooden planes, will fit in some of the older metal planes as well. In short, try anything out and see how it goes.
The Bottom Line
Whether you buy a new plane or a secondhand plane there's usually one thing you can be sure of - it'll need work done on it to tune it up. Old planes will likely need to be cleaned up, checked, adjusted properly and may need their blades sharpened.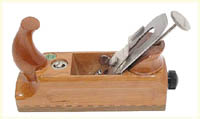 European style smoothing plane by ECE Primus.
There's no way around it, if you want your plane to perform well it'll need some tuning. Even brand new planes may need to have a little work done to them. Fear not, however, as there is plenty of information in books, magazines and the internet on how to tune a hand plane properly (check this site out for instance).
If you have the money though there is one way you can get a great plane virtually straight out of the box and tuned for immediate use. In most cases it'll cost you anywhere from between $100 and $500 dollars depending on model and type, but planes from Knight Toolworks ($120 to $280), Clark & Williams ($260 to $420), Veritas ($100 to $240) and Lie-Nielsen ($100 to $500) are excellent value for money choices and will give you a great head start on your hand plane requirements.