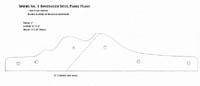 These side plate profile drawings are from a later model Spiers No. 1 dovetailed panel plane and are offered more as a template for cutting out the side plates for dovetailing, rather than a full and comprehensive set of plans or diagrams. Typically the side plates of these planes were made from 3/16" thick pieces of mild steel and this particular plane was no exception. Likewise the sole plate was the usual 1/4" thick.
Unfortunately the dovetails are not marked here, though I may draw up a proper set of plans at a later stage.
In regards to the actual plane itself, the lever cap was an embossed and dimpled "Spiers Ayr" type in bronze and the infill was Brazilian rosewood. though there was a fillet piece of pine (not beech) behind the mouth in the rear infill. The plane was not disassembled so I'm not aware how far back the pine extended, though I would assume that it wouldn't have been too large. The front bun, to my knowledge, was solid rosewood as there were no signs of veneering present. The lever cap screw was also a later type.
The plane had its original cutter and backing iron, stamped with the "Stewart Spiers" mark, and all parts were marked "4". This number was also stamped on the bed of the rear infill and all of the wooden parts were in excellent condition and showed some stunning figure, with good coloring throughout. The rear tote had a nicely shaped tip which was quite delicate and long. These tips often break off through misuse or poor storage so its good to find one in fine condition. Design-wise, the plane seemed a typical example of a later model Spiers No. 1 dovetailed panel plane.

To download a JPEG or PDF file for this hand plane (or both of them together in a ZIP file), please click one of the links below.
Download Spiers No. 1 Panel Plane (13-1/2 inches) (JPEG)Download Spiers No. 1 Panel Plane (13-1/2 inches) (PDF)Download Spiers No. 1 Panel Plane (13-1/2 inches) (ZIP)
Last Updated: May 9, 2015 @ 11:05 pm