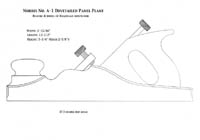 Here are some side plate profile drawings for a later model Norris number A-1 dovetailed infill jointer plane. These diagrams are a little more detailed but are still intended more for use as a template for cutting out the side plates and sole plate prior to dovetailing, rather than a full and comprehensive set of plans or diagrams. The scale should be 1-1, if I've done things properly.
The side plates for this plane were made from 3/16" thick pieces of mild steel and the sole plate was 1/4" thick.
The later years were full of much upheaval at the Norris factory, and some models varied quite markedly. The First World War interrupted production significantly, and just happened to coincide with the introduction of a new patented adjuster which Norris had developed in 1913. It's possible that American planes started to gain more popularity in Britain, as newer and cheaper planes were introduced to the Norris range, including cast and malleable iron versions of some of the models, as well as a rather nice bronze-bodied smoother which had a thin steel section soldered on to the base, adding to the durability of the sole. Some cheaper planes also featured infills of dark stained beech wood rather than the more expensive Brazilian rosewood.
The infill used in this particular plane was rosewood and the adjuster was of the later style. The bronze lever cap and screw are also of the later style. The wood parts were of good condition, though not fantastic, and the plane seems to have done a good deal of work in its lifetime. The rosewood was straight grained and of even coloring and was not "fussy" in its figuring. There were no cracks in the wood that I could see.
To download a JPEG or PDF file for this hand plane (or both of them together in a ZIP file), please click one of the links below.
Download Norris No. A-1 Panel Plane (13-1/2 inches) (JPEG)Download Norris No. A-1 Panel Plane (13-1/2 inches) (PDF)Download Norris No. A-1 Panel Plane (13-1/2 inches) (ZIP)