After several years of development H.N.T Gordon and Co sold their first classic hand planes in 1995. Since then the business has concentrated on making a range of high quality hand crafted woodworking planes at an affordable price which have now sold to woodworkers and craftspeople all over the world.
Located in Alstonville in northern NSW, Australia, HNT Gordon and Co. continues to add to its list of woodworking planes and, in 2002, released a new Shoulder plane to its then current stable of smoothers, block planes, trying planes and rebates, bringing their impressive range of different planes to 10 in total.
Terry Gordon is the Planemaker and owner of the business and the following statements outline his business principles.
-- Any plane made will be able to plane or scrape any wood without tearout.
-- Only high quality materials will be used, with a simple appropriate design to offer customers affordable quality in tools.
-- An unconditional guarantee on all workmanship and materials.
Terry believes that making high quality products that last a lifetime contributes to the health of the environment, as too often today we are seeing cheap poor quality imported products ending up as landfill after only a short period of service. This is not good news for our environment.
In a pre-industrial master cabinet making shop, rough sawn lumber was converted to dressed timer usually by the apprentice using a jackplane. In a modern master cabinet making shop this menial task is done by planers and thicknessers; however, in both work shop the final smoothing of timber is done using finely tuned hand planes which give the work piece the distinction of craftsmanship.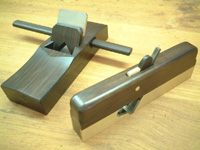 Planers and thicknessers are a labour saving device, which, like the apprentice, have limitations. Anyone planning to move beyond this elementary woodworking level will need to discover hand planes so the can control the destiny of their work piece giving it individuality and a mark of distinction. Anyone who has had the pleasure of using a finely tuned hand plane will appreciate the satisfaction gained by hearing and feeling one at work to produce a superior finish, which amplifies the beauty of wood.
Besides the personal satisfaction you will get out of using hand planes, you will appreciate the minimal time you will have to spend sanding your project by machine or hand. It is also nice to be in a workshop which does not have the annoyance of sanding machines which create a lot of dust and noise. Your neighbors may appreciate this fact also.
The marketplace currently offers a variety of woodworking planes designed for smoothing timber and most are from the Bailey pattern. The common feature of these planes is the cast iron body, mechanical adjustment and the 45 degree "common pitch" blade angle. The 45 degree blade pitch is optimized for smoothing soft timbers with nice straight grain and it is no secret that this blade angle will not perform very well on hard or heavily figured timbers.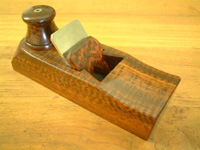 The HNT Gordon planes common features are a wooden body, no mechanical adjustment and a 60 degree half pitch or (90 degree scraper) blade angle. The 60 degree blade pitch is ideal for smoothing hard woods - especially those with interlocking grain or with heavily figured grain. In fact, the 6o degree blade angle on an HNT Gordon hand plane will allow you to plane against the grain on a variety of timbers.
Once more, when turned into a scraper plane the 90 degree blade angle is perfect for finishing hard woods with curly grain that would normally tear when a normal plane blade angle is used. The 60 degree blade angle is very quickly converted to 90 degrees simply by reversing the blade.
That's not to say that the 60 degree blade pitch will not perform well on a variety of soft timbers. On the contrary, it does, which makes the HNT Gordon plane a very versatile hand plane when compared to its counterparts. Alternatively, using these planes with a skew action will lower the effective cutting angle and create a slicing action to further improve the finished surface on soft timbers of end grain.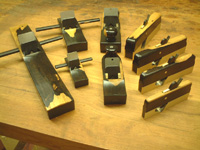 HNT Gordon planes are very simple in their design and construction, allowing quick blade removal or insertion. This allows for very easy blade adjustment. making the plane very useful as either a plane or a scraper. With a little practice these planes can be adjusted to very fine tolerances, giving you just the right depth of cut and control to suit the smoothing task at hand.
All HNT Gordon bench planes have a wooden body which significantly reduces the friction associated with planing timber. In short, this means less work for you to get the job done. The horizontal handle is set very low which optimizes your energy to move the plane through the wood rather than wasting energy applying force in a downward direction. This handle will also give you the flexibility to push or pull the plane/scraper to suit the job at hand. Also the planing action is more efficient and comfortable than conventional bench planes because you push or pull squarely from your shoulders which shares the load between both arms, as opposed to one arm and shoulder doing the majority of the work causing you to tire sooner. Another advantage of the horizontal handle is its tendency to keep the plane sole horizontal which helps you to square an edge.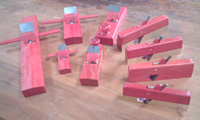 It should also be known that all HNT Gordon planes are individually hand made and tested by the plane maker to ensure the perform like you would expect a quality tool should. The blade is sharpened and honed for immediate use. Also a comprehensive instruction leaflet on how to use each plane is provided with your purchase, describing how to use and maintain it for years of trouble free planing.
Should you encounter any problem with an HNT Gordon hand plane, contact the retail outlet where you purchased the plane, and the plane maker will contact you. Any product defect will be rectified immediately at no cost to the buyer.
The showroom is open to woodworkers to try HNT Gordon planes and view planes being made. The entire range of planes are available for sale and visitors will be able to hand pick the plane of their choice. Other related accessories for hand planes are also available.
To check out the HNT Gordon website, click here.