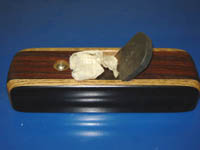 Knight Toolworks smoothing plane with adjustable mouth, made from cocobolo, oak and ebony.
If one were to do a quick check of the various hand tool forums that abound on the net, one thing would soon become evident - the planes made by Knight Toolworks generate a heck of a lot of interest from woodworkers near and far. It seems virtually everyone loves a Steve Knight plane! So much so that I can't recall a bad word being said about them at all. If you ever have the chance to try one out it soon becomes apparent why. I mean what's not to love? They look great, they work great and they feel great in the hand. Probably one of the best things though is that they're very affordable!
Steve Knight had been a furniture maker for about 5 years before he decided to try his hand at planemaking. Since then he's made around 3000 planes - yes, you heard right, 3000 - and there doesn't seem to be any signs of slowing down just yet. In fact Steve Knight is busier than ever, as each and every plane is hand made by Steve himself in his one-man workshop in Portland, OR.
How can so many wonderful planes be made by just the one person in such a few short years? Handplane Central caught up with Steve when he had a spare moment or two, and asked him a few planemaking questions.
H.C. - What sort of woodworking background do you have?
Steve Knight - I had built furniture for about 5 years before I started on planes. I was pretty much self taught.
H.C. - How long have you been making planes? When did you start and what was the first plane you made?
Steve Knight - almost 7 years now. I had started about 9 years ago. I started because my hands were killing me from all of the sanding. I bought my first plane from Patrick Leach. I started making them because of a low budget and I think the first was a smoother, chiseled out in the traditional way.
H.C. - How did you learn? What were your main sources of information?
Steve Knight - I had one magazine article and a little bit of info on Krenov style planes, but mostly I was self taught the hard way. I made a lot of errors along the way as my tools were not setup accurately and I did not really know how to use or tune a plane either. There was not a huge amount of info when I started. I used the oldtools mailing list for quite a bit of help. but I did not do things like most woodworkers did so I was somewhat on my own.
H.C. - Why a laminated construction, rather than a more traditional "single block" approach?
Steve Knight - I tried chopping and failed a couple of times. Plus it was hard on my hands so it kind of died on it's own. Plus the glueup let me try new things.
H.C. - What woods do you use in your planes?? Do you have any favorites?
Steve Knight - Mostly tropicals and purpleheart seems to be my biggest seller about 80% or so of the planes are purpleheart.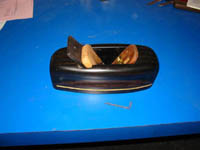 Ebony coffin smoother.
Most tropicals work well they tend to be more stable then most of the American woods I can find they tend to cost less for the basic woods and they tend to be more attractive. It would be hard to say one wood is my favorite they all have good and bad points. Some really curly bubinga has blown me away every time I can get my hands on it.
H.C. - What do you look for in selecting woods for planemaking?
Steve Knight - Stability is the main thing, and then looks. The wood has to be attractive to sell very well. Of course what people like the best - ebony and cocobolo - tend to cause the most problems. The wood needs to be fully dry and I have to measure the moisture content of every piece of wood I use or plane failure will happen.
H.C. - Many of your planes feature a different core wood to the side "plates". Any particular reason for this?
Steve Knight - For looks really. It can make the plane more interesting. Sometimes it is to get a nice wood that I have limited amounts of into a plane. For instance using ebony for the sides tends to help eliminate some of the ebony stability problems with a solid plane.
H.C. - I also notice that you use a block of wood inserted into the heel which acts as a striking surface for setting the blade. What's the main advantage of this system?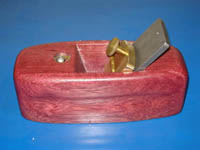 New style smoothing plane, featuring a brass lever cap and screw and an adjustable mouth. The wood is purpleheart - a Knight Toolworks favorite.
Steve Knight - I don't do this much anymore except on softer woods. when I first started I used ebony but it became a problem buying it in the right sizes. I kept the idea as sort of a signature, but a few months ago I gave it up as a waste of effort. Plus it was hard to get a perfect looking joint.
H.C. - Do you custom make planes to order? Not so much just different options with the woods used, but built from the ground up - different types of planes, bedding angles etc.
Steve Knight - Yes, most of the planes are made to order. I keep a basic stock of purpleheart planes, but since there are so many angles and woods and styles to choose from it would be hard to have them all in stock.
H.C. - You have an adjustable wedge that is used to keep the mouths of the planes tight. With the wedge removed though it allows you to have a much wider mouth than most planes would have. Does this make it harder, or easier, to make the plane bodies?
Steve Knight - I now use a sliding mouth block a piece of movable sole. Having either one makes building easier since you can adjust the mouth after you true up the sole. It leaves a room for error.
H.C. - What tools do you use for planemaking? Any machinery or specialized tools involved?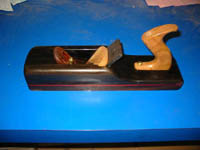 Ebony "razee" jack plane.
Steve Knight - I have pretty basic tools and most hobbyist's would have more. I have a tablesaw, a SCMS, a 6" jointer (I splurged and got a Byrd helical carbide cutterhead), a small planer, a router table for the side grooves, several different belt sanders, a grinder, a drill press and a large and small bandsaw. I also have a metal cutting horizontal bandsaw and, just recently, bought a mill for making metal parts and hopefully soon infills again. So I wouldn't say I had really specialized tools - just really accurate ones.
H.C. - Do you use a lot of jigs in making the planes, or is it a simple setup?
Steve Knight - No not really, but that is because I am not much of a jig guy. I have a jig for routing out the slide slots for the wedge a couple of simple ones for making wedges and one that has been redesigned several times for drilling tote holes. Almost everything else is freehand.
H.C. - How many different models do you offer?
Steve Knight - Well thats a hard question since I can make quite a few planes and most of the planes can have quite a bit of variety, but I would say 19 or 20 basic models.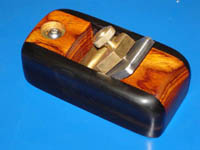 An attractive little "pocket" plane.
H.C. - At what stage did you decide to make the jump from hobbyist planemaker to starting a business?
Steve Knight - Well, once the planes started working I tried selling them. They sold pretty well and off I went. I was unemployed at the time so it was not a super hard choice.
H.C. - At one stage you were making your own style of dovetailed infill planes but, from what I understand, you're no longer making them any more. Is this the case and, if so, why?
Steve Knight - Yes, I made about 65 of them, but I could not do the metal work and I had to find people to help with that. My last fellow was great but he could not continue to do it and we didn't have proper working plans that I could just take to someone else to do. Plus it was the cost of the bodies, as most machinists want to make quite a few at once and I could not afford the investment. Now I have my own mill and I hope to get started again. I am finding people to help invest in the cost of starting up.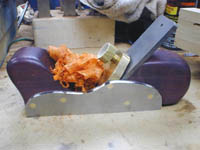 Knight Toolworks infill plane in purpleheart.
H.C. - Your infills are uniquely shaped. How did you come up with the design and why do they differ from the more traditional infill plane?
Steve Knight - Well the design was part mine, but more my machinist Jim Wilson. The shape of the wood was mostly mine, with customer feedback, but I also had to deal with the design limits of the body. We put the mouth in the middle of the plane but that caused hand hold problems, so I had to extend the wood and such.
I'm quite good at taking other ideas and combining them into something new. I did not want to do what others have done in the past - what would be the point - so I did things my way, just like I have always done. There are traditional ideas that are there because it works the best so I stick with those ideas too. Another consideration was my ability and how much time and effort I wanted to do, and the tools I had to do it with.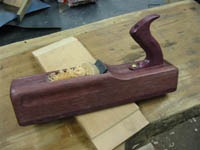 Purpleheart panel raising plane.
H.C. - You have a new plane now with a brass lever cap, rather than a wedge. Will all your planes migrate to this new system, or is the lever cap just another option to the wedged planes?
Steve Knight - Right now it is another option. I am beginning to like them a lot, but they can add a fair amount to the overall cost. People still want wedges so I won't give them up.
H.C. - You have an extremely loyal and dedicated customer base for your planes. Is it difficult to keep up with demand, considering that Knight Toolworks is a one-person operation?
Steve Knight - Well I do get behind from time to time but, for the most part, sales don't exceed what I can do. If I don't get too lazy I could maybe do 10 planes a week on a steady basis. The oddball planes like dados, dovetails, plows and such eat up far more time and can get me behind.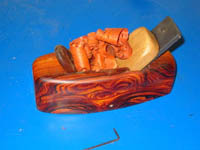 Coffin smoother plane with wildly figured cocobolo.
H.C. - What's next on the agenda for Knight Toolworks? What new stuff are you working on at the moment?
Steve Knight - My plow plane is getting all brass hardware and that should be done by next week. I just finished the T&G set but as soon as I did I saw a Stanley No. 49 and saw how I could combine the two planes into one with a flip fence I had a rethink. Now the T&G will be one plane and the groove part of the plane will also be a groove plane for drawers and such.
I am working out the details for a new infill too and hope to have something within a month. I have been thinking about a multi-ironed dado plane as well. I have made several skewed shooting planes and need to get one up on my page. The mill is letting me refine my designs too, like nice recessed depth stops on the panel raiser, dado plane, plow and other planes with a depth stop.
To check out more planes from Knight Toolworks, click here to go to the website.