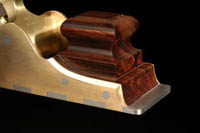 While there have been a few dedicated makers of infill planes over the past 60 years there has been somewhat of a resurgence in the "lost art" of infill planemaking within the last decade or so. One of the best makers carving a niche for themselves in recent years is a company from Canada, Sauer + Steiner Toolworks.
In 2001 Konrad Sauer and Joe Steiner met each other at a wood show and immediately became friends. Both had been furniture makers for a number of years and both found that they shared a common love of using infill planes daily for fine finishing of their work. The two men were sold on the feel, performance, aesthetics and the heritage that the planes represented and, during one conversation, they wondered whether they might want to try and see if they could make infill planes themselves? The two decided that it was well worth a try and found themselves learning the skills needed for making infill planes in the same manner as the classics they so admired had been done 150 years prior - by dovetailing plates together and infilling with rosewood, rather than casting up the bodies as cheaper infills were made. The concept was sound, and Sauer + Steiner Toolworks was born!
The company is now world renown for their work. All of the planes are handmade in the traditions of Stewart Spiers and Thomas Norris, using the very best materials. Just like Spiers and Norris, Sauer + Steiner planes are not just tools to be looked at and admired for their beauty, but solid work-horses made to be used. They are made using a combination of exotic woods, steel and manganese bronze, and are generally regarded as the pinnacle of the plane-making craft.
Original infill planes are highly sought after by collectors and users alike - so much so that, in the case of tool collectors, many of them now sit idle and on display in collections all over the globe. This practice caused quite a bit of concern for the two new Canadian toolmakers. "Many of these unused old planes helped make the finest antiques we have," explains Sauer. "The fact that they've ended up in curio cabinets almost seems a shame. It would be wonderful to have top-quality infill planes in everyday use in the workshop."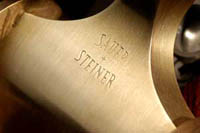 The company's solution to this was to build authentic infill planes of the highest quality and entirely by hand. Finding a market and developing methods which would help to keep manufacturing costs down was also important. After all it's one thing to make a high quality woodworking plane and another thing altogether selling one! The planes needed to be affordable and Sauer + Steiner's Spiers-inspired hand planes settled into a price range which they felt comfortable with.
One of the the first things you notice with a Sauer + Steiner plane is the flawless fit and finish of it. These planes are beautifully made! The dovetails for the sides and the sole are cut and fitted using nothing more than a hacksaw, some files and a ball-peen hammer.
"We thought it very important to recreate the working environment Spiers operated in, and this turned out to offer a valuable lesson. We learned a great deal about the construction process as a result -- where to make important cuts, where we had a little margin for error, and more importantly, how to assemble a perfectly square infill shell around a hardwood body." explains Sauer.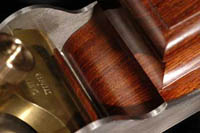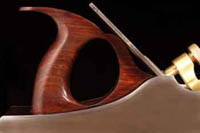 It's not just looks, however. There are also solid mechanics involved in making a plane that will perform extremely well under adverse conditions and on many different species of wood - interlocked grain, curly, blistered, birds-eye, you name it. These planes pass each challenge thrown at them with seemingly no trouble whatsoever. It's good to know that there are people out there who really know what they're doing and can offer a service of this quality to woodworkers world wide. If you ever have the opportunity to check out a Sauer + Steiner infill plane then I strongly advise you do so.
Thomas Upton.
NOTE: In 2003, Konrad Sauer became the sole proprietor and plane maker at Sauer + Steiner. To check out the Sauer + Steiner website, click here.