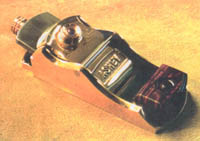 NOTE: The following text and scans are taken from a brochure released by the Ashby Tool Company sometime in early 1996. I've included it on this site because it's always nice to have brochures, catalogs, advertisements and other historical documents from the manufacturers themselves, as they help to provide part of the overall picture of hand planes and planemaking.
The Ashby Tool Company is still an ongoing concern, and Philip Ashby can often be found at many of the trade shows around Australia each year, demonstrating his woodworking planes. From memory - and if anyone can confirm this it would be much appreciated - the Ashby Tool Company has made and sold around 150 planes or so. The planes can be bought through:
Mik International
Box 70 Burnside 5066
504 Glynburn Rd
Burnside SA, 5066.
BRONZE SERIES WOODWORKING PLANES from the ASHBY TOOL Co. (SOUTH AUSTRALIA)
Philip Ashby recently demonstrated at a Sydney woodworking show the prototype of the "Low Angle Block Plane" featured overleaf. During the show, his Ashby Tool Company took orders for five of these planes and received a further five orders within a month afterwards which, at first, may not seem significant though when it is understood that these planes cost Aus $650 each, then ten orders is an impressive return for a first public viewing of this beautiful tool.
Why would any woodworker wish to pay over $600 for a "Low Angle Block Plane?" A glance at Ashby "Low Angle Block Plane" specifications reveals the answer" This is tool-making at it's very best and this was demonstrated practically at the Sydney woodworking show when the Ashby "Low Angle Block Plane" was compared to mass produced verions in the task of planing end grain of the hardest Australian timbers..... the mass produced planes shuddered as they attempted - without success - to plane the wood clean whereas the Ashby "Low Angle Block Plane" glided across as it produced clean...
This SUPERB TOOL is clearly aimed at the woodworking enthusiast and the discerning tool collector.

For the Ashby Low Angle Block Plane and for future specialist woodworking Planes in bronze and desert forged timbers from inland Australia.
AS WITH ALL ASHBY TOOL CO. PRODUCTS, CUSTOMERS CAN BE ASSURED OF THE HIGHEST QUALITY IN DESIGN AND CRAFTSMANSHIP.
SPECIFICATIONS for the ASHBY LOW ANGLE BLOCK PLANE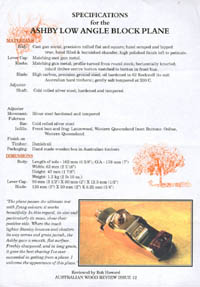 MATERIALS
Body: Cast gun metal, precision milled flat and square; hand scraped and lapped true; hand filled & burnished chamfer; high polished finish left to patinate.
Lever Cap: Matching cast gun metal.
Knobs: Matching gun metal; profile turned from round stock; horizontally knurled; inlaid timber centre button matched to button in front bun.
Blade: High carbon, precision ground steel; oil hardened to 62 Rockwell (to suit Australian hard timbers); gently salt tempered at 200C.
Adjuster Shaft: Cold rolled silver steel; hardened and tempered.
Adjuster Movement: Silver steel hardened and tempered.
Fulcrum Bar: Cold rolled silver steel.
Infills: Front bun and frog: Lancewood, Western Queensland Inset Buttons: Ooline, Western Queensland.
Finish on Timber: Danish oil
Packaging: Hand made wooden box in Australian timbers.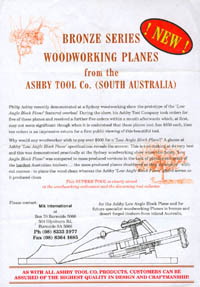 DIMENSIONS
Body: Length of sole - 162 mm (6 3/8"); O/A - 178 mm (7")
Width: 62 mm (2 7/16")
Height: 47 mm (1 7/8")
Weight: 1.2 kg (2 lb 10 oz.)
Lever Cap: 90 mm (3 1/2") X 50 mm (2") X 12.5 mm (1/2")
Blade: 126 mm (5") X 50 mm (2") X 6.25 mm (1/4")
"The plane passes the ultimate test with flying colours: it works beautifully. In this regard, it's size and particularly its mass, show their positive side. Where the much lighter Stanley bounces and chatters its way across end grain jarrah, the Ashby gave a smooth, flat surface. Freshly sharpened, and in long grain, it gave the best shaving I've ever succeeded in getting from a plane. I welcome the appearance of this plane"
Reviewed by Bob Howard
AUSTRALIAN WOOD REVIEW ISSUE 12