Thoroughbred: A Best English Mitre Plane from the Henley Optical Co.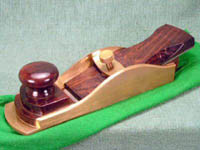 By Antony Talbot
In a quiet Oxfordshire town comes exciting news of a venture that will delight all woodworkers. Once again planes, English planes made to the highest standards of quality workmanship and finish, are available to the craftsman. Made in the best traditions of the great Planemasters - Stewart Spiers in 1840 and continued with Thomas Norris until 1940 - The Henley Optical Company are to market a range of fine planes which will include a Best English Mitre Plane (illustrated here), a Heavy Smoothing Plane, a Thumb Plane, a Slide Rebate Plane and, scheduled next for production, a Shoulder Rebate Plane.
The whole thinking behind this exciting venture suggests that the time is arriving when, despite all the obstacles placed in the way of the small business, men of determination and vision will achieve what government dictate has so obviously failed to do.
For too long now general policy has been aimed at the 'big' business. Economy of scale has been a much loved phrase. The economies of mass production, however, derive from an association with such things as automation, use of standardised parts, the institution of simple, repetitive operations and a specialisation amongst the labour force by way of function and division. It is all too apparent, nevertheless, that any economies or savings can only be obtained if a sufficiently large number of units is being produced to justify the considerable cost of running such a set-up. The motor car industry is a good example.
That information is available in any reasonable text book on economics. It might better read as follows: . . . any economies or savings can only be obtained if a sufficiently large number of units is being produced AND SOLD. The trouble arrives when you are making things, in large numbers, that nobody wants. And the trouble in this country at the moment is just that. The large companies have been geared to mass production and have become totally inflexible to meet changing demands. They have thus been forced to throw good money after bad in an attempt to remain in business, i.e., employing armies of non-productive marketing and advertising personnel, work study and time and motion people, accountants and financial advisers, planners, salesmen and representatives - all geared to the effort of convincing the consumer that he wants and therefore must have, something he doesn't necessarily need.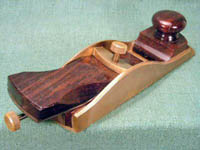 The Henley Optical Company, we hope, represents the Phoenix of British industry - and, as such, will point a way that others will follow. We could thus have a growing band of small, thriving businesses each turning out something which someone wants, with a labour force which is once again getting job satisfaction. Obviously this cannot happen overnight but the signs are unmistakably there. We will encourage the trend.
A Best English Mitre Plane
Here is a tool, a sensational tool, to make the craftsman woodworker itch to get one in his hands. It has the stamp of a Spiers or a Norris about it and, indeed, these two renowned Planemasters may take full credit for the inspiration which prompted the manufacture of this beautifully balanced, functional plane.
Manufactured by the Henley Optical Company, 4 Hart Street, Henley on Thames, Oxon, the planes come in two specifications as follows: -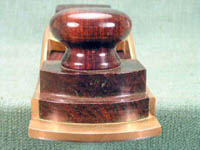 1) With Gunmetal Chassis
Weight: 7lbs. approx
Wooden Parts: Solid Polished Rosewood
Overall Length: 12 1/2 inches
Length of Sole: 10 1/2 inches
Width of Sole: 3 inches
Plane Iron: 2 1/2 inches x 5/32 inches parallel cast steel.
Inclination of Iron: 12 degrees
Price: 129 pounds plus 3.75 pounds postage and packing; plus V.A.T. (U.K. only) Price firm to 31.12.76.
2) With Iron Chassis
As Above Except:
Weight: 5 1/2 lbs. approx.
Price: 119.00 pounds plus 3.75 postage and packing; plus V.A.T. (U.K. only) Price firm to 31.12.76.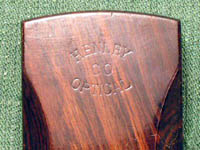 The prices are a reflection of the amount of work and quality of material that has gone into their manufacture and whilst, at first, they tend to shock, a little comparison with, say, a best quality Norris in the 20's and 30's reveals a remarkable parity. In those days a Norris trying plane would cost the rough equivalent of a cabinetmaker's wages for two weeks and on that basis the price is valid today. Another point of interest is the fact that to get hold of a second hand Norris in good condition these days you would be required to pay something like that sort of money anyway - if one can be found. And to put the whole thing in its true perspective I see that Slazengers are introducing a new tennis racket - the Phantom - price? 119 pounds. It is worth remembering, too, John Ruskin's advice: "All works of quality must bear a price in proportion to the skill, time, expense, and risk attending their invention and manufacture. Those things called 'dear' are, when justly estimated, the cheapest; they are attended with much less profit to the artist than those things which everybody calls cheap. Beautiful forms and compositions are not made by chance, nor can they ever, in any material, be made at small expense."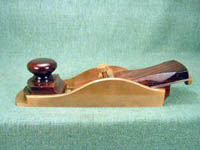 The Henley Optical Company's Best English Mitre Plane is being produced as a run of one hundred and fifty. Each will be stamped with its own serial number. As a practical woodworking man myself my personal concern is that the 'tool collector' will wish to get hold of these planes and that they will start and end their lives as museum pieces. This would be a great pity because they are exquisite tools and should be used. This is what they were designed for.
Each plane is carefully tested for working quality before despatch and is perfect in detail and finish. The extremely low angle of the iron makes the plane ideally suited for end-grain trimming and shooting-board work. The iron is completely chatter-proof and may be finely regulated both vertically and laterally by a single lever mechanism. An inlaid steel sole provides increased tensile strength and resistance to abrasion and the small mouth enables the plane to be used lengthwise along timber without tearing the grain. The most extremely fine and accurate work can be produced with this plane. It would be a joy to own and work with one. In its own right it ought to be an inspiration to produce the finest work.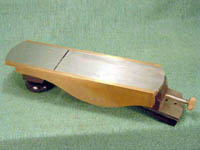 "Now, the conditions of work lasting are two-fold: it must not only be in materials that will last - it must be good enough to bear the test of time" John Ruskin.
This Mitre Plane confirms those sound principles.
We are advised that both models of the plane can be inspected at The Henley Optical Company's premises during normal business hours (Saturday to 1.00 p.m.). Prospective purchasers requiring further details should contact Mr. Roger Dyer at the premises, or telephone Henley on Thames 4179. Overseas customers are very welcome.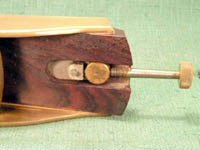 NOTE: Although one hundred and fifty (150) planes have been produced, only one hundred and forty-eight (148) will be available. The Henley Optical Company will retain No.1 for their own historical purposes. Number 2 has been donated to Woodworker Magazine and will be presented as the first prize in the Cabinetmaking Section of the Woodworker Show.
THE EDITOR IS ALWAYS PLEASED TO HEAR NEWS OF INVENTION, INITIATIVE AND INNOVATION. INITIATIVE IS THE INGREDIENT WHICH MAKES ONE MAN DO WHAT THE OTHER NINETY-NINE TALK ABOUT. WE AT WOODWORKER ARE EVER READY TO LEND OUR ENCOURAGEMENT AND SUPPORT.
Originally from Woodworker Magazine (U.K.), August 1976
Photographs sourced elsewhere