When it comes to cutting and making the main body stock of a wooden hand plane its important to realize the fundamentals of planemaking. It goes without saying that wood is a very accommodating and expressive material, and its always on the move in one way or another. The maker, or restorer, needs to be aware of the working properties of a particular piece of wood to better understand its strengths and weaknesses. When it comes to plane making, choosing the right piece of wood for its stability and wearing abilities is paramount, for it can mean the difference between a tool that works well and one that never seems to be quite right in the hands of the user. While many woods have been used in making planes over the centuries there is one timber that is a standout -- beechwood. The best stock typically comes from the English forests, such as High Wycombe in Buckinghamshire for instance. The following article on selecting and using beech for plane making was first printed in "The Woodworker" magazine in 1912.
Cutting Beech Plane-Stocks
Plane-makers are usually glad to get good white, straight-grained beech, for plane stocks. One concern, the Gage Tool Co., Vineland, N.J., has repeatedly advertised in this journal for such wood. The accompanying engraving shows the method of sawing plane-stokes from the log, as used by that company.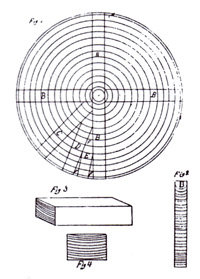 Fig. 1 represents the end of a beech or apple wood log, from which are sawed 3-1/2 or 4 inch planks, represented by B, taken at right angles from each other. The remaining triangular shaped pieces are then sawed into planks as represented by C, D and E, F representing a portion of the waste. B, Fig. 2, represents one of the planks as it appears after removing from the log, before sawing into stocks, with the circles of annular growth as near as possible at right angles to the sides of the plank.
Fig. 3 represents a plane-stock as sawed from B, Fig. 2. Fig. 4 shows the end of the plane-stock with its circles of annular growth parallel with top and bottom of plane, and at right angles to its sides.
For planes only the white or sap portion of white beech is used. Apple-wood also is used. An immense amount of beech and apple wood goes to waste every year, which might be turned to a better use. The waste in sawing logs for plane-stocks is just as valuable for firewood as would be the whole log sawed up. Slabs from beech logs where thick enough, are just as valuable for planes -- in fact more so -- than any other part of the timber. Near the butt part of the tree the growth is rapid, and here the slab is thickest, and from this part come the best plane-stocks. -- The Woodworker.

Last Updated: May 9, 2015 @ 11:07 pm