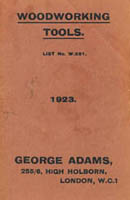 The following images are taken from the George Adams "Woodworking Tools" catalog of 1923. George Adams was a tool and hardware merchants located at 255/6 High Holborn in London.
While most of the planes and spokeshaves featured on these pages are manufactured by Stanley, there are a few other makers represented as well, such as Preston, Marples and Gage. There may also be some Mathieson planes but it's difficult to tell.
To my knowledge this catalog has not been reproduced by any publisher or society but, as "new" catalogs are published from time to time this may change.
A transcript of the introduction for this catalog is below:
GEORGE ADAMS
ABRIDGED WOODWORKING W.231 TOOL LIST
This list does not represent all the woodworking hand tools we carry, but is only an abridged selection of those that are most likely to be wanted in every-day use. If one should not happen to find just what one requires, please write and ask for loose descriptive sheets of the article wanted, we will then forward details of what we carry. Postage is inserted against each article. This is the postal cost for one article only in Great Britain, not abroad nor in Colonies. Several articles would go by post in one parcel at a lower rate than each one singly. If sent by rail the cost of carriage will only be quite a small expense.
In the event of a number of small articles being ordered together to value exceeding £5, where the total weight of the parcel packed deos not exceed 28 lb, we pay carriage in the United Kingdom.
TERMS OF PAYMENT.
All the prices in this list are net, subject to no deduction, and are based on cash-with-order terms of business.
We shall be pleased to open ledger accounts with customers on receipt of the usual trade or banker's reference.
DELIVERY FROM STOCK.
All the goods we have listed we carry in current stock, and in the usual course of business if the order is received in the morning, the goods will be despatched the same day. We carry a very large stock of tools of all kinds and for all trades. Should we run out of any article, which may occasionally happen, we will advise of any delay in delivery likely to occur.
WARRANTY.
All these goods sold by us are guaranteed of good material and workmanship, and provided they are properly used for the purpose for which they are intended, and not otherwise, we will replace anything faulty or unsatisfactory if returned to us within one month from date of purchase.
Prices in this list are subject to alteration without notice.