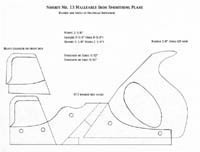 I've been busy scanning, cleaning up and uploading a whole bunch of stuff in order to kick off a new section on the site which, in particular, may be of interest to makers and would-be makers of infill planes - dovetailed or otherwise. I thought it would be good to include some of the hand plane diagrams, plans and details that I've observed and measured over the past 20 years. I should add that these plans are more like "working diagrams" rather than full technical drawings and were initially done for my own interest rather than for publication. I apologize for my lack of drawing skills and the lack of full information on the planes.
These diagrams are, however, suitable for most people to get an idea of the measurements, infill designs and the side profiles of real woodworking planes, and will undoubtedly assist in the making of these planes based on the "old masters". The previews and "picture files" are normal jpegs but the main file for each of the planes is a pdf which you can read with Adobe Acrobat. If I've done things correctly then the pdf's will be at a higher resolution and suitable for printing. They should also be, in many cases, a 1-1 scale so they can be printed, cut out and used as templates directly.
As stated, most of the diagrams and information comes from real infill planes by makers such as Spiers, Norris, Buck, Preston, Slater, Mathieson, Marples and others. The reason why most of the plans are from infill planes is because that's my main field of interest, however from now on I will try to include some plans, measurements and diagrams of many of the wooden woodworking planes that I chance upon.
While a number of the hand planes that will be featured are cast rather than dovetailed, I still think it's worthwhile to include them for the sake of overall design, as any number of them can be adapted and made into a dovetailed plane in either steel, bronze or brass. If you have access to the resources you might even want to try your hand at casting up one of the handplanes that we will have in this section of the site. I plan to have future articles and tutorials on pattern making and casting, as well as more stuff on making wooden planes, dovetail planes and plane making tools in the not-too-distant future, so you might want to check back fairly regularly if you're into making handplanes or interested in getting started in them.
So on to today's plane - A Norris number 13 smoothing plane. These were made out of malleable iron and, therefore, were one of Norris' "cheaper" models. Malleable iron was a "new" metal at the time and was thought to be much less brittle than traditional cast iron and therefore wouldn't break as easily if it was accidently dropped onto a concrete floor. The side profile of this plane is quite attractive though and can easily be adapted into a dovetailed version by following some of the planemaking tutorials on this site. Indeed Karl Holtey is rather partial to this design and has made a wonderful version of this plane from steel and naval brass.
The Norris number 13 was offered in 3 sizes consisting of a smoother and two panel planes (12-1/2" and 15-1/2"). All three planes could also be bought in an adjustable model, though the 1914 and 1928 catalogs both show this plane without the adjusters. The number 13 smoother was a little over two thirds the price of the equivalent dovetailed version, the number 5. The infill was Brazilian rosewood.
To download a JPEG or PDF file for this hand plane (or both of them together in a ZIP file), please click one of the links below.
Download Norris No.13 Smoother Plane (JPEG)Download Norris No.13 Smoother Plane (PDF)Download Norris No.13 Smoother Plane (ZIP)