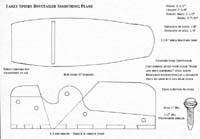 This is an early model Spiers dovetailed infill hand plane, possibly even a custom order. It has the trademark early features - low two-piece front bun and two-piece rear infill, screwed side plates (to fix the infills), tongue and groove joint for the sole plate and early "domed style" thumb screw. It also has the elegant "lighter style" lever cap which was sometimes prone to bending and breaking as well as the upside down "Spiers Ayr" stamp. Both of the infills, as mentioned, are in two parts and made from nicely figured Brazilian rosewood. The join for the rear infill can be seen on the bed as well as the heel, though it would be reasonable to assume that this join would be much harder to locate when the plane was first sold. Time often has a habit of showing these things over the years.
The earlier models were much less consistent than the later ones. They were generally squarer in finish, with little or no chamfering at all. The overstuffing of the infills literally "sat" on the top edges of the sides, making them a little quicker to manufacture (though not that much quicker if jigged up correctly). It probably made them a little cheaper to make too, as the rosewood only needed to be an inch and a half thick, rather than two inches, and scraps could be used - especially for the top capping on the bun. It seems obvious that there was some "settling in" period for these designs, possibly brought on by efficiency, technology, cost and maybe even a little "consumer input".
With this in mind it's difficult to know for certain whether the particular hand plane featured here is actually a "custom job" for a client wanting something a little different or maybe just a fanciful developmental foray into aesthetics and plane ergonomics? Indeed it may turn out somewhere down the track that Spiers made more planes with this design? At any rate with it's side profile and beautifully turned dome-headed turn screw it's certainly different from the norm.
To download a JPEG or PDF file for this hand plane (or both of them together in a ZIP file), please click one of the links below.
Download Early Spiers Smoothing Plane (JPEG)Download Early Spiers Smoothing Plane (PDF)Download Early Spiers Smoothing Plane (ZIP)