There are a number of different ways to make a wooden plane, though some purists may have you believe that there is only one "true" way and that is to make them out of a solid block of wood. To my way of thinking this is not the case at all. Wooden planes can be made from a single block, by gluing two halves together or by laminating several blocks. With modern glues it's safe to say that no method is any better or any worse than another. It all just gets down to in the end is personal preference.
Nowadays there seems to be a wealth of information about plane making but it was not always the case. Over the decades there have been articles in magazines, trade papers and books around the world but during the 1980's and 1990's things really started to heat up and planemaking articles became much more frequent. This is great because the more information that is available to you the easier it should be to make a good hand plane.
So, when it comes to books, how do you pick the wheat from the chaff? What are the best sources of information on making wooden planes? I've included some of my favorite books on the subject and why I think they're worthwhile looking through.
How To Make Wooden Planes by David G. Perch and Leonard G. Lee (ISBN 0-9691019-0-2)
A slim, bare-bones book on the matter. This ground breaking book was first published in 1981 by Lee Valley Tools and includes a simple and no-fuss approach to planemaking. After a brief introduction on the anatomy of a plane and the woods and tools used in making planes the book then launches into an simple to follow "step-by-step" guide that almost any woodworker would feel comfortable about. Each step is illustrated along the way by R. Reynolds and all measurements and angles are given. At the end of the book there are discussions on blade pitch, blade adjustment and alternative construction methods (sandwich, butterfly). There's even a short section on making a Japanese bench plane, though this isn't as thoroughly illustrated as the main section of the book. A great resource for the beginner plane maker. The only problem is sourcing it. There are a few available, second hand, from Amazon.com which can be found via the link below. You used to be able to purchase the book through Garrett Wade so try there as well. Other than that you might want to try eBay or maybe even your local library?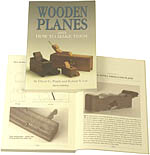 Wooden Planes And How To Make Them by David G. Perch and Robert S. Lee (ISBN 1-894572-49-1)
Published some 20 years after, this book can best be described How To Make Wooden Planes on steroids! It contains all of the information in the first book and much, much more. For instance, instead of just concentrating on making one bench plane, this book has descriptions and illustrations for making many different types of wooden planes - from bench planes to miter planes, compass planes, chamfer planes, molding planes, spill planes, tongue and groove planes and right through to plows, forkstaff, bullnose, side rabbet, core box, thumb, panel raising and coopers planes. There's even a section on how to make a wheelwright's jarvis and a witchet or rounder plane.
At the end of the book there's a short introduction into metal plane making featuring a wooden infill shoulder plane. Making plane handles and ideas on decorating your planes are also covered.
Though a lot more involved than the first book, this one is still very much directed at the beginner or intermediate planemaker, though a more advanced planemaker can still find something of interest here. An excellent book, and a great companion to the next book I'll be talking about.
NOTE: I don't have an Amazon.com link to this book but if you click on the image you'll be taken to the Lee Valley website where you can buy it.
Making Traditional Wooden Planes by John M. Whelan (ISBN 1-879335-69-7)
Although a rather slim volume at around 120 pages, this book by John Whelan is quite comprehensive and describes how to make a variety of different planes using various methods. The book has clear step-by-step instructions that will enable most woodworkers to make a plane. There are about 20 different planes and spokeshaves covered in the book and each chapter is accompanied by the author's line drawings and a photograph of the finished plane in question. In addition there is a brief chapter on the history of the plane, instructions on making plane irons and also on the tuning and using of wooden planes.
As to be expected of this author (John M. Whelan also wrote the excellent and very comprehensive book The Wooden Plane: Its History, Form & Function, which has become one of the most authoritative books on the subject of woodworking planes), Making Traditional Wooden Planes is a great starting point for anyone wishing to learn more about how to make wooden planes.
Fifty Years A Planemaker And User by Cecil E. Pierce (ISBN 0-9628001-2-0)
Some might find this choice of a book as being somewhat of a departure from the previously mentioned works, but I just find the tone of this book to be quite refreshing.
The subtitle to this book is "this being a master's guidance to the building of a wooden handplane" and Cecil E. Pierce is a man who knows what he's talking about. Most of the planes featured are slightly different from the styles found in the other three books - different design (Mr. Pierce has a preference for razees), different woods used and the author's own take on construction methods. The writing is sound, with some informative insights into sharpening and different tool steels thrown in for good measure.
This book illustrates the fact that there are many different ways to end up with the same result, and that the "journey" is as important, if not more so, as anything else. In this regard Fifty Years A Planemaker And User is closer to Krenov and his approach to working wood than the other books mentioned previously - though it should be noted that Cecil has his own unique style.
Like How To Make Wooden Planes, Fifty Years A Planemaker And User is rather scarce to track down nowadays (it was published in 1992) but last time I checked there were a few copies available at Amazon.com. It wouldn't be my first choice for a beginner planemaker but is, in my opinion, a very good book to have in the library nonetheless.
There is a final book on the making of wooden planes that I should mention. It's written by David Finck and is titled Making And Mastering Wood Planes and was published by Sterling Books in 2005. Unfortunately I've not yet read the book so I cannot really comment on it with any authority, though I have heard that it is an excellent book on the subject. When I do happen to get a copy of it I'll write about it in more detail. In the meantime there is a link to the book in the sidebar if you want to check it out for yourself.