"Wooden bench planes have had their day, and are going out of use..."
...So wrote W.F.M. Goss in the 1888 book "Bench Work In Wood: A Course Of Study And Practice Designed For The Use Of Schools And Colleges" published by Ginn & Co, Boston. W.F.M. Goss was a professor of practical mechanics at Purdue University in Lafayette, Indiana.
It should be noted that although much of the emphasis throughout the book is on the different types of wooden planes and their usage, W.F.M. Goss did set aside a short section on the then up-and-coming, new-fangled "iron planes" made by Leonard Bailey and The Stanley Rule & Level Company (among others). These cast iron planes, with their fancy adjustments and innovative designs, were to revolutionize the woodworking industry at that time and it's interesting to note what the views were at that time on these new additions. It should also be stated that, though the book is well over a hundred years old, much of the information contained within it is still quite relevant and valid today.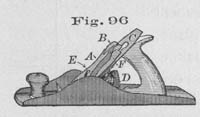 Iron Bench Planes possess the general characteristics of the wooden ones, but are superior to them in several respects. They are always perfectly true and, therefore, never require jointing. The cutting "iron", which, in this case, is not of iron at all, but of steel, is much thinner than that in wooden planes, and is, therefore, more readily sharpened. It's greater thinness is made possible by the thorough manner in which it is supported. It may be set and accurately adjusted in a very short time.
The arrangement of parts in Bailey's iron planes may be understood by reference to Fig. 96, which represents a jack-plane. The "wedge" A is of iron of the form shown; it admits the screw E through an enlargement of a short slot, and drops down, allowing E to take effect. By a movement of the clamp B, the wedge A is made to press against it at F. The screw E is never moved.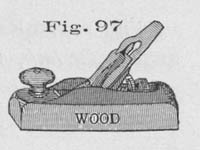 The cutting iron is adjusted for depth of cut by the action of the thumb-screw D, which, when turned in one direction, moves the iron downward, and when its motion is reserved moves it upward.
Thus a single movement of B releases the wedge and iron, and a reverse movement secures them again, while D furnishes a ready and positive means for adjusting the cutting edge with a degree of delicacy which is impossible to attain in wooden planes. These planes, all having the same adjustments, are made in every size.
Planes of Wood and Iron Combined may be had, made up of the Bailey movements mounted in a suitable frame, to which a wooden face is fastened. Fig. 97 shows a Stanley combination smooth-plane.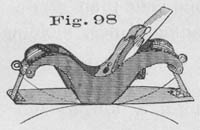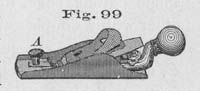 A Circular-Plane has a thin steel face, straight when free, but capable of having its ends thrust down or drawn up, thus making the face concave or convex, and adapting it to work on an outside or an inside curve. Fig. 98 shows a Bailey's adjustable circular-plane.
Block-Planes are small, and are intended for use chiefly on end grain. They generally have a single inverted iron, which turns the shaving on the bevel instead of on the face of the iron. They have many different forms, from among which Fig. 99 has been selected as a type. In this plane the throat may be made narrow or wide as is desired; the adjustment is controlled by the screw A.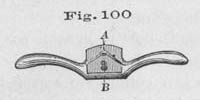 Spokeshaves have the action of planes, but are not usually classified with them. A simple form is shown by Fig. 100. By the cross-section it will be seen that it has almost no guiding surface corresponding to the face of the plane. This feature adapts it to work of irregular outline.