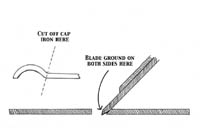 While you don't need any sort of "specialty" plane to use on plastic laminates the issue is mainly one of blade longevity. A blade ground at the normal angle of of 25 to 30 degrees soon becomes quite dull when used on these materials. What's really needed is a higher blade angle and a more durable blade edge so that the blade "scrapes" the surface of the plastic laminate, rather than cut through it. Fortunately this can be achieved quite cheaply with a normal Bailey style bench plane and a "spare" blade and chip-breaker.
Grind your spare blade in the normal manner and at 30°. There's no need to finesse over the sharpness of it so honing the blade is not necesary. Once that's done, flip the blade over on the other side and grind a secondary angle at around 45°. This will end up giving you a side profile similar to the one in the illustration.
As there's no need for the chip-breaker to break the shaving in the traditional manner, its still useful to have it so that the blade can be adjusted easily. One problem though is that it's now too long for the purposes of this blade and will, no doubt, clog the throat of the plane so it should be trimmed down to fit. Do this by hacksawing the end off just behind where the bend is - where the curve meets the straight. You can then chamfer or round the edge off slightly so that its smooth and doesn't cause injury. Once this is done the blade and cap iron can be screwed together as normal and placed in the plane.
What you have now is a blade edge that is a lot more durable than the traditional plane blade edge. Keep in mind though that the blade should be adjusted so that the cut is not too heavy and produce chattering. A little more effort is required to use the plane with the blade at this higher angle but, as you're only using it on a rather thin material, its not too bad.