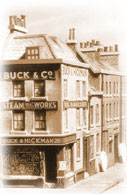 The Buck family name has long been synonymous with collectors and users of hand planes and other woodworking tools throughout the past 150 years or so. Spanning several generations (and continuing right up to the current day) the Buck family were a dynasty of tool makers and sellers in London and had outlets throughout other parts of Britain. In the early 19th century, brothers, George, Joseph and Matthew Buck, became very well known and respected as London toolmakers and dealers. Their sister, Ann Buck marries John Roe Hickman, who was a printer by trade.
In 1840, Ann Hickman opened a small tool shop, Buck & Co, in the East End of London. As this was during the industrial revolution, where innovations in tools, machinery and technology flourished, the business did extremely well and Buck & Hickman soon moved to Whitechapel Road, London.
In 1901 the Glasgow branch opened, followed four years later by the Manchester branch and, another four years after that, the Birmingham branch. There was rapid expansion of the business right through to 1914. It should also be noted that Buck & Hickman played an important role in World War I, and then again in WWII, providing both tools and manpower. The Whitechapel premises were badly damaged in both wars, particularly in WWII, during which period the company was forced to operate out of 25 different locations. However the firm continued to grow throughout that time.
It is believed that wooden planes were being made, or at least sold, by the company up to 1964, as they are listed on two pages of the 1964 catalog. The planes listed are: 3 sizes of coffin smoothing planes, 2 sizes of jack planes and a try plane. Also listed are rabbet planes (square and skew, from 1/2" to 1-1/2"), hollow and round planes, tongue and groove planes and a screw-stemmed plough plane that was "made from the best selected beech, brass screw adjustment, side adjustment by fine threaded screws with hand nut and counter nut".
The company is still in business today trading as BuckHickman InOne, though they no longer make or sell hand planes.
SOURCES: BuckHickman InOne and W.L. Goodman's "British Planemakers From 1700".
Click on each image to see a larger version of the page.