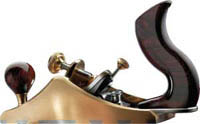 Bridge City Tools have been around for quite a while now. The first Bridge City tool - a rosewood and brass try square - was produced in 1983 by John Economaki. Since then they've gone on to carve out a nice little niche market for themselves by producing a range of functional and attractive woodworking tools. Their aim is to produce woodworking hand tools that are the benchmark of quality by combining a mixture of accuracy and high craftsmanship in their manufacture. The Company's concept has been to dominate the upper-end of the hand tool market by designing and manufacturing its own range of tools and by marketing direct to the end user. This combination of manufacturing and direct marketing distinguishes the Company from many other tool manufacturers and marketers.
Bridge City's tools are manufactured in Portland, Oregon, with the raw materials originating from within the United States. It is Bridge City Tools belief that by combining solid brass with beautiful rosewood and using predominately hand labor, it has recaptured the spirit and soul of craftsmanship in tools.
A fairly recent and exciting addition to the range of tools that Bridge City produces is a variable pitch bench plane, known as the VP-60. Although the initial run of the limited-edition VP-60 Signature Series is 400, each plane is sequentially numbered and signed by master tool designer, John Economaki. By having the pitch variable this helps to ensure that the plane can be used on a wide variety of lumber, from knotty pine to birds-eye maple and even unforgiving woods such as paduak, wenge and rosewood.
Like many of Bridge City Tools planes the VP-60 is skillfully dovetailed in bronze and steel and features a cocobolo tote and front knob. At around the same size as a Stanley number 4 smoother, the VP-60 is significantly heavier at 6 pounds. This adds considerable heft to the plane and the user only needs to push the plane along, rather than hold it down as they complete the stroke.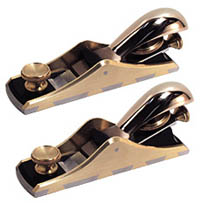 At the heart of the VP-60 is a robust A2 steel iron, hardened to Rc 60-62, cryogenically tempered, precisely lapped and sharpened to 29° (25° primary bevel with a 4° micro-bevel). This iron is ready to use out of the box. The VP-60 iron nests to a frog assembly that pivots from 30° to 60°. This provides for a full 60° of attack angles; 30° thru 60° with the iron bevel down, and 60° thru 90° with the iron bevel up. With a 60° range, the VP-60 truly becomes a pitch perfect plane, featuring every attack angle ever needed, including 30°. The width of the plane iron is a little over 2 inches.
Now while variable pitch bench planes are not new - after all one of the first Leonard Bailey planes featured a variable pitch almost a century and a half ago - it would be reasonably safe to assume that not many planes could match the quality of the VP-60. At just a little over $1500 it would be fairly comparable in cost to the Spiers and Norris infill planes of the past.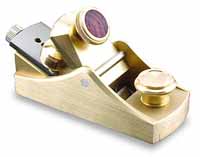 Another very nice tool of note is the HP-6. This nice little combination block plane can be used for rebating and also features a range of removable brass soles that can be used to chamfer or roundover an edge. The radius iron/sole combinations for the HP-6 allow you to cut a perfect corner radius on both soft and hardwoods that, apparently, needs no sanding. There are four radius soles to choose from, a 0.0625" radius, a 0.125" radius, a 0.1875" radius and a 0.250" radius. These sole/iron combinations can create perfectly tangent radius cuts in four or five passes with the iron set to full depth. The plane can also be used as a chisel-edge plane by removing the front part of the sole.
Now it comes as no secret that Bridge City's tools are not cheap, but as that great innovator of bench planes, Stewart Spiers, once stated - a well made tool that does the job properly and with a minimum of effort is ultimately cheaper in the end.
Click here to go to the Bridge City Tools website.