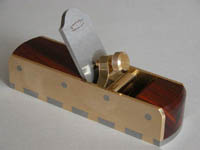 The name Karl Holtey has been synonymous with high quality woodworking planes for about a decade now. The planes, largely modeled on the great British planes of the nineteenth century (only made better), have a reputation for being some of the most coveted and sought after tools in the world - and possibly the most expensive new planes that money can buy. The Holtey 11-S Plane is a new model, less expensive "entry level" hand plane.
Though touted as a block plane, the 11-S - with its 1-1/2 inch wide, bevel-down blade bedded at 60° - is more like a small smoothing plane than a traditional metal block plane. Its available in three different infill choices, rosewood, boxwood and ebony, and at 6-3/4 inches long is similar in size to a Stanley number 2 smoothing plane, though it lacks any form of adjuster for depth of cut or lateral movement. This isn't really a problem as, with a little practice, it is easy enough to adjust the blade to your liking.
The workmanship and finish are impeccable, which is to be expected of a Holtey plane. The dovetails are crisp and tight, the infill is snug and silky smooth and the blade is flat and nicely finished. Even for a "budget" plane everything about this tool reflects quality.
At a fraction over 5/32" the A2 blade is nice and thick for a plane of this size. The edge is hollow-ground to 25° and seems to maintain its durability and sharpness for quite a while. Bedded at 59° the plane is a little harder to push through your work than a standard 45° plane but, because the blade isn't too wide, its not too bad. One thing the plane excels at, however, is planing difficult or gnarly wood. Here the higher bedding angle is a definite bonus. If A2 isn't your preference for plane blades you might be interested to know that Holtey will soon have S53 blades available at a higher cost.
The sole on the 11-S was perfectly flat, and the sides were exactly at 90°. You would expect this on a plane costing almost £880 ($1550.00) of course, but you'd be surprised sometimes. The plane performed extremely well, making short work of anything that was thrown at it - long grain, short grain, end grain, with or against the grain, knotty wood and knot free wood - basically anything I could find. Because the plane was perfectly square it was ideal for shooting edges and miters - the overall mass of the plane making up for its small size.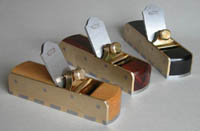 The contrast of the naval brass and the steel, coupled with the rosewood infill, looks amazing and its not at all surprising why these sorts of planes are popular amongst tool collectors and users everywhere. While the cost is somewhat prohibitive to many users it is not expensive at all for a Holtey plane. After all with a finely crafted and functional plane like this you're not just buying a woodworking tool, you're buying a modern day icon - much in the same way as an Armani suit, an Alessi appliance, a Gucci handbag or Dolce & Gabbana shoes. The only difference is that a Holtey Plane is arguably more useful.
Reviewed by Thomas Upton