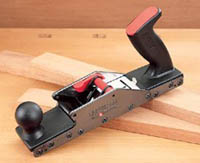 It's been about 10 years or so since Rali Planes burst on to the general woodworking scene. When they first appeared they were praised by home handymen and weekend do-it-yourselfers as the greatest thing since sliced bread due to their modern looks and innovative blade changing mechanisms but, at the same time, were quickly slammed by the more traditional woodworkers and plane aficionados of the day. So who's right? What's the inside edge on these strange looking, brightly colored plastic and pressed metal planes? It's often said that the truth between two points lies somewhere in the middle, but are these planes actually any good to use, and can they find a worthwhile use amongst the quality tools typically found on the shelves and tool chests of high-end furniture makers and restorers? The answer might surprise you.
Rali planes are manufactured in Chatel St. Denis, Switzerland. It is claimed that they can eliminate all of the hassles notoriously associated with hand planes, and are ready to use right out of the box. It's also said that the soles are dead flat and require no machining, tweaking or hand work prior to use. The interchangeable, double edged, razor sharp, chrome steel blades require no sharpening and a unique blade holder automatically sets the blade to 90 degrees every time. High praise indeed if the claims are to be believed.
It is true that the blade changes are quickly and easily accomplished in seconds, and that the specially designed blade holder ensures that the blade is positioned correctly. The depth of cut adjustments are also quick and easy to use, and are done by simply raising or lowering the red adjustment lever to micro adjust the blade. At the time of evaluation all models featured laminated steel soles with adjustable throats.
It should be said though that it really isn't that easy to fine tune the blade at all by using the adjustment. Sure, it's quick enough to get the blade "in the zone", but for accurate micro adjustment each and every time the Rali's just don't cut it. That's OK for the most part. After all if you just need a plane to break the edges off a corner or for a bit of rough planing then a micro adjustment isn't that important. For finer work though, it's paramount. The claims that these planes can cut "glass smooth surfaces" in highly figured and wavy grained boards seem a little far fetched, but it really depends on what is being planed exactly and how sharp the blades are.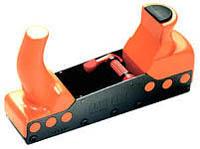 And, for the most part, they're not that sharp - not straight out of the box anyway - which, to my mind, significantly undermines the whole concept of an "easy-to-use" hand plane. The blades could certainly do with a little "Scary Sharpening" here or there. Of course this is usually beyond the scope of your average DIY weekend wood warrior, but when the blades are sharpened and honed properly the results are far far better. The manufacturers of Rali Planes themselves must have realized this at some stage as they now offer a blade holding jig to hold their resharpenable blades securely for sharpening. It's a little bit more involved to resharpen the non-resharpenable blades but it can be done with a home made jig. And you really would want to resharpen the replacement blades as the new ones aren't that cheap. The little blades are hard - as in Rockwell C hard - but hold an edge reasonably well.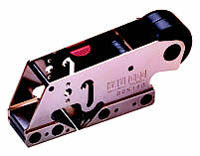 There are some good and solid reasons to have a Rali plane or two in your toolbox though. First of all they're light and convenient so you can easily carry them around with you wherever you go. They're also pretty tough and literally "bounce" when you drop them on hard concrete floors. Not that we condone this practice, but anyone who's lost a faithful Stanley friend through accidental breakage would appreciate this fact.
The planes are also great when you need to do a "dirty" job such as removing paint from a window frame or cleaning up second hand lumber. Not that you need sharp blades for this so it's good to keep a few worn ones spare for this purpose.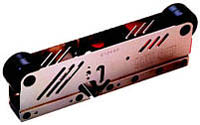 The Ralis are good for beginners or the occasional user because it's easy to get a result quickly and with a minimum of fuss. Changing blades is more like changing a CD than having to struggle with lever caps, screws and so forth. For kids it would be ideal since, even if you dropped the blade on your bare foot, it is unlikely that your foot would be injured. Try that with a normal plane blade.
As most people would be using these planes on soft, straight grained timber, rather than highly figured and interlocking hardwood, the issue of having a finely tuned plane isn't quite so important. As with anything else it needs to be considered who these planes are designed for - people who need to use planes every so often and don't want to have to worry about resharpening blades. In this respect they are a great idea.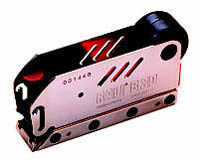 However, they are no subsitute for a quality bench plane if one is regularly using a plane for smoothing day in, day out. As mentioned previously they are more difficult to adjust the depth of cut for very fine cuts, and the replacement cost for blades would soon become a problem. Having said that though a Rali plane or two would be still handy enough to have around the workshop.
Additional information on some of the models:
The Pro 260 Smoothing Plane features a new American style handle and knob for better control. There's a storage compartment in the handle which keeps replacement blades handy. The plane can be used with either the disposable two sided standard blades, or the optional resharpenable blade. Dimensions are 8-7/8" long and 2-1/8" wide, with a 1-7/8" wide blade.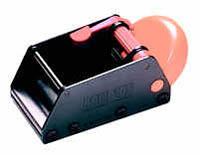 The Rali block Planes are good for small surface work, but are especially suited for performing chamfering, rounding over or, occasionally, end grain work. The planes are 5" long and 2-3/16" wide, with a 1-7/8" wide blade.
The Rali rabbet plane is used across or with the grain. There is also an optional guide fence with side support. 5-1/2" long and 1-3/16" wide. with a 1-1/4" wide blade.