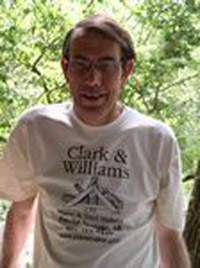 2006 Arkansas Living Treasure, Larry Williams
On April 19, 2006, the Arkansas Arts Council announced its Living Treasure award for 2006 - the recipient, contemporary plane maker Larry Williams, from Clark & Williams.
Williams, of Eureka Springs, was designated as the 2006 Arkansas Living Treasure for his craft of creating hand woodworking planes, according to Arkansas Arts Council Executive Director Joy Pennington. The award is in recognition of an Arkansan who, amongst other things, is outstanding in the creation of a traditional craft or skill. Another major criteria is that the recipient has, in some way, elevated their work to the status of art and that they actively preserve and advance the art form.
Throughout the year, community leaders were asked by the Arts Council to identify outstanding craft artists who live or work within their community. During the process, individuals were considered for nomination to be named an Arkansas Living Treasure.
Williams will be honored at a reception on Saturday, May 20th, from 3:00 to 4:30 p.m., at the Unitarian Church at 17 Elk Street in Eureka Springs.
Larry Williams is a self-taught woodworker and metalworker. When he and his wife were restoring an 1890 house in Denver, Williams developed a passion for the history and historic preservation. This included the traditional trades, techniques and tools used by the workers of the past. When the couple finally moved to Eureka Springs in 1980, Larry pursued a career as a restoration carpenter and cabinetmaker. He later met and formed a partnership with Bill Clark, who was a Eureka Springs contractor and cabinet maker. The business soon focused on fine custom and high-end cabinetry.
Antique tools, especially hand planes, were difficult to find in good order at the time. Because of this, along with a general interest in the craft, Williams began to research and design planemaker 'floats.' These highly specialized tools are needed to make the various grooves, channels and other openings required in making hand woodworking planes. Once designed and made to his satisfaction, these became the very first product of Clark & Williams partnership. This business then quickly evolved into the production and sale of a range of brand new 'antique' woodworking planes. Williams also taught himself metalworking so that he could duplicate the old parts necessary to make the tooling required to produce the planes.
Williams is not only credited with reviving the traditional trade of wooden planemaking - he also created the means in which to revive the trade, as the tools and supplies available to traditional plane makers are, sadly, no longer available. For the most part, plane making has involved the learning several related trades. Prior to the internet, it was difficult for anyone to find the information needed, as there was very little information written about traditional wooden plane making and very few old craftsmen who knew about the techniques of the trade. Williams had to examine, experiment, and interpret the old tools for himself, and this often meant making a few mistakes along the way.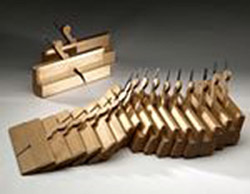 Photo by Al Parrish for Popular Woodworking Magazine
Clark & Williams is helping to re-create an industry which has since vanished in the U.S. For example, the firm are largely responsible for reintroducing varied bed angles to bench planes. A practice which had been abandoned with the introduction of mass production. The planes produced by Clark & Williams look, feel and function very much like one would expect to buy from, say, a mid-18th-century London plane maker. Williams has said that he prefers the 18th century planes to later ones, adding that by that stage they were, for the most part, completely evolved while still being at the purest form of the genre.
Williams has contributed and appeared in notable publications such as the Fine Tool Journal, Popular Woodworking and Woodwork magazine, along with 'A Guide To The Makers Of American Wooden Planes', an important reference book on the history of wooden plane makers in America. Williams also shares his enthusiasm and expertise in the craft by teaching plane making classes and workshops, demonstrating at various woodworking symposiums and speaking at several meetings throughout the United States.