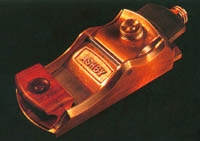 Ashby Low-Angle Block Plane
Reviewed by Bob Howard
The inspiration for this tool is the legendary Norris plane. With that as his guide, Phil Ashby, a longtime Adelaide-based woodworker, has set out to make a plane which has, as he puts it, "the excellence of old".
In recognition of the demands of the modern market, he has also decided to supply his plane in ready-to-use condition. Unfortunately, since all the necessary fettling is time consuming hand work, this must add considerably to the cost. This might not matter to a large section of his potential market, but as we are all painfully aware, woodworking is not a lucrative profession, so I would like to suggest that the plane be offered in "unfettled" condition for those with the time and skill to do it themselves. Hopefully this will make it available at a more affordable price than the current $650.
Weighing in at 2 pounds 10 oz. (1.2kg) the plane certainly has the heft of a Norris. The sole measures 6-3/8" x 2-7/16" (162mm x 62mm) which is large for a block plane. The blade is a magnificent piece of precision ground high carbon tool steel, 2" (50mm) wide and a full 1/4" (6.25mm) thick. It is hardened to 62° Rockwell. The blade adjustment mechanism is based on the single thread Norris style. The model tested had 26tpi, but the next series will have 42tpi for finer adjustment and less backlash.
The body is cast from Admiralty Gunmetal with a higher tin content for extra hardness. Wood infills and decorative details are made from a variety of Australian inland timbers, such as lancewood, ooline, yarran, western myall, gidgee and mulga.
In reviewing a new and complex product such as this I think it is very important that we remember, as anyone who has ever designed anything knows, that it is incredibly unlikely that you get everything right first go.
With that in mind. I would offer the following comments, most of which are minor matters. First of all, I would beef up the adjuster shaft a bit. As it is now, if you try to laterally adjust the blade without easing off the lever cap screw, you could easily bend the shaft. I would also look to make both screw threads tighter fits. They both seem to be a bit sloppy when not under any pressure.
I think the choice of a small dimple as a decorative detail in the bottom of the front bun inlay is an unfortunate one, as it spoils what is a perfect and logical finger hold when using the plane with one hand. The plane body has been beautifully scraped and lapped, and while the sole is lovely and flat, the sides are not quite square to it.
The throat of the plane is about 2mm wide with the blade in cutting position, which to me is unnecessarily large. I would like to see it at least half that, or less. As I said, most of theses points are relatively minor, and easily fixed.
A more difficult question is the overall size of the plane. For many it will be too large and too heavy to use with one hand. Many woodworkers I know prefer the Stanley 60 1/2 to the Record because of the smaller style of the Stanley, but both of these are considerably smaller than the Ashby.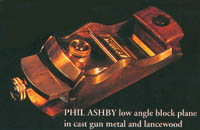 Furthermore, with it's 2" wide blade, if you use this Ashby plane on tough wood, it takes a lot of muscle to push it, and there is no obvious and convenient way to hold it at the back.
I think it would be greatly improved if the lever cap was extended along the lines of the standard block planes to provide a rest for the heel of the pushing hand. This would also keep this hand clear of the blade adjustment knob.
Having said all of that, the plane passes the ultimate test with flying colours: it works beautifully. In this regard its size and particularly its mass, show their positive side. Where the much lighter Stanley bounces and chatters its way across end grain jarrah, the Ashby gave a smooth flat surface. Freshly sharpened, and in long grain, it gave the best shaving I've ever succeeded in getting from a plane.
The blade depth adjustment works smoothly and easily, even with the lever cap fully tightened - again in marked contrast to my Stanley. The plane is beautifully finished, with excellent detailing. I particularly liked the attention given to the hand filed chamfer along the cast body sides.
Ashby offers a lifetime guarantee and plans to keep a complete spare parts backup along with a resharpening service. The plane comes in a wooden box with a certificate recording its serial number and type, and names of the woods used for the infill and decorative details.
As one who has for years suffered the poor quality machining and finish of a traditional block plane, as well as the butter like toughness of its blade, I welcome the appearance of this plane. It is obviously a labour of love, and I am enough of a romantic to believe that such enterprises deserve to succeed.
Bob Howard.
From Australian Wood Review, issue 12, September 1996
Follow-up taken from issue 13:
Last issue's review of the Ashby plane prompted a response from the maker, who wrote to us afterwards:
"The weight and size of the tool are design factors. The mass of an Ashby gives the tool presence and momentum. This, coupled with superb steel (62° Rockwell), keen edge and very low angle (12°) are essential for a super fine cut in end grain work or hard or curly material. To achieve this with absolute control the front bun has been designed for two handled use where necessary, whilst still being comfortable for single handed use such as for chamfering."
"The problem of squareness and loose threads has been overcome. The movement of the blade adjuster gives a silk like smoothness with 32 TPI (not 42 TPI as stated) and tighter fit.
The size of the mouth has been reduced from 1.75mm (not 2mm as stated) to 1mm. Any finer that 1mm would relegate this tool to that of end grain use only. In my experience the mouth will constantly clog in long grain use if the mouth is any finer."