These advertising pamphlets are from the Australian maker of dovetailed infill planes, C. R. Miller Planes. The first is from around 1996 and features original "old style engraved" illustrations of some of C. R. Miller's range on one side, with a background on the maker and plane specification information on the reverse side. These illustrations were created exclusively for C.R. Miller Planes by artist and graphic designer, Dominique Falla.
The second pamphlet, the one with the photograph, dates from around a year or so later. A similar pamphlet to this one was featured on page 25 of the book "Australian Woodworking Planemakers - Second Edition" written by Trevor D. Semmens, which was published in 1998 (ISBN 0-9587338-1-3). By that stage, however, C. R. Miller Planes had moved to a larger factory in the inner suburb of Preston, Melbourne (AUTHOR'S NOTE: Another Australian planemaker, Davleco, used to make handplanes only a few blocks away in the 1960's and 1970's.)
It should also be noted that there were several similar versions of the same pamphlet, each featuring a different photograph, and a reduced image of the first pamphlet was also included in Semmens's book.
The text from the first pamphlet is transcribed below:
C.R. Miller Planes
ESTABLISHED ELTHAM VICTORIA 1989
"Coming from a toolmaking background spanning several generations, including a tradition in plane-making from as early as 1910, C. R. Miller Planes is the latest generation to follow the ancestral path.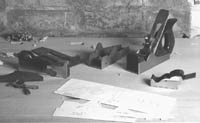 LEFT: Promotional photograph showing dovetailed planes in various stages of construction, as well as technical drawings.
Early models consisted of violin makers' planes, originally of own design, from Cocobolo wood with brass soles. Chisel nose, chamfer and mitre planes, along with scraper planes and small moulding planes were made from about 1991 onwards and were primarily brass or steel bodied with exotic wood infills of Ebony and Rosewood. The first metal dove-tailed plane was made in 1992 - a 2" long scrub plane with brass sides, steel sole and Ebony infill.
All planes to this stage were under 4" in length and unmarked (i.e. no maker's name)
In 1993, C. R. Miller planes began manufacturing larger planes based on early Spiers and Norris designs. The first styles offered were:
Dove-tailed Shoulder planes (Yorkshire pattern in 5 different sizes)
Chariot planes (4 sizes)
Bullnose planes (2 styles in 4 sizes each) and a
Mitre plane (improved pattern, 10 1/2" long with a snecked 2 1/4" cutter)
C. R. Miller Planes extended their range of styles by mid 1994 to include:
Panel planes (5 different lengths with 2 1/2" cutters)
Jointing planes (also in 5 different lengths with 2 1/2" cutters)
Three styles of Smoothing planes (unhandled, open and closed handles, parallel or round sided with up to 4 different cutter widths)
Original pattern Mitre planes (2 lengths and 2 cutter widths)
Two more styles of Shoulder planes (Spiers pattern and London pattern in 5 cutter widths each)
Single cutter Rebate planes (9 assorted sizes and cutter widths)
Double cutter Rebate planes (7 different cutter widths) and
Thumb planes (2 different styles in 3 cutter widths each)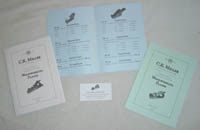 LEFT: Two catalogs from C. R. Miller Planes. The one on the left is dated 1994 and the right is dated 1997. The center shows a page from the 1997 catalog as well as a business card from the maker.
Previously selling by word of mouth only, C. R. Miller Planes were shown for the first time to the general public at the 1994 Melbourne "Working With Wood Show". Demonstrations were given of the various planemaking techniques, including metal dove-tailing, to hundreds of enthralled onlookers. More shows followed including The Doncaster Woodworkers Show, The Shire of Knox Show and The Whittlesea Show.
Currently C. R. Miller Planes lists, as standard, 10 different types of planes in 34 styles in various lengths and cutter widths. All in all there are 185 different planes on offer. They can also custom make planes to any pattern desired including different bed angles, infill timbers, skewed mouths or cutter widths."
AUTHOR'S NOTE: C. R. Miller Planes is no longer at the address noted on the pamphlet, though they are still occasionally making planes on a very limited scale.
Thomas Upton.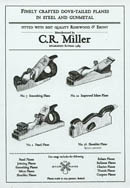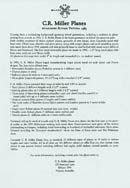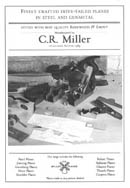 Left and center: The 1996 pamphlet. Right: The 1997 pamphlet.