If you need to hand plane very small pieces of wood you'll soon discover that it isn't that easy to do it in the conventional manner. One solution, however, is to adopt the coopers method of inverting the plane and holding it rigid, while you push the wood over the blade instead.
Coopers jointing planes are between 2 foot and 6 foot long, but most of them fall into the four to five foot mark. They're usually set on a stand or fixed to a low bench. While the average workshop may not have the luxury of having a coopers jointer, you can still use the same method by holding the plane in the jaws of your bench vice or your workmate. A note of caution though - be careful about cranking the vice up too tight as the casting may break from too much pressure. If you use a wooden plane then the pressure that's exerted will be more evenly distributed but a basic rule of thumb is still to not overtighten.
With the hand plane upside-down in a vice its a matter of just guiding the pieces over the plane blade. The only problem with this is that, being such small pieces, it's a lot easier to slice the tips of your fingers off. With this in mind it's a good idea to use a push stick or a platten to help out with the job unless the part is easy enough to hold comfortably. You can use these on the bench plane in the same way as you would normally use them on an electric planer/joiner.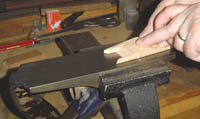 LEFT and BOTTOM: Using a smoothing plane "face-up" in a vice to carefully shave a newly-made plane wedge. First the underside of the wedge is planed, then the side. While the wedge could've been sanded, planing is just as effective and a little bit quicker. Because the top of the wedge is "scalloped" and allowed for easy grip without slippage a push stick or platten was not necessary.
The push stick is just your average "vee" or "birds mouth" design but to make a platten takes a little bit more effort. All that's required though is to glue or screw a handle to a flat piece of timber or particle board, and then nail or glue some "guide strips", which are thinner than the finished piece to be planed, to the opposite face of the board.