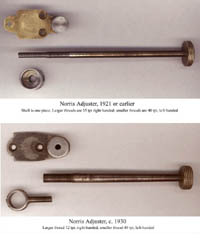 It could be argued that the main feature which places Norris infill planes above all the other makers, as far as collectors go, is due to the ingenious, though somewhat flawed, Norris adjuster. While the adjuster feature is a "latecomer" to British infill planes it is, nonetheless, interesting that it should help Norris to usurp Stewart Spiers as the undisputed king of the infill even though it took some 70 years to make an entrance. How has it done so? Well, lets face it - woodworkers and collectors alike are much more used to seeing the Bailey pattern plane with its quick and easy adjuster system than they are to seeing non-adjustable infill planes - especially over the past 100 years or so. The Norris plane with adjuster is just like a souped up Stanley type plane, right? Erm....well no, not exactly.
Now it has to be said that the average Norris plane - or any infill plane by a known maker for that matter - can far exceed the demands of an average Stanley Bailey plane - regardless of whether or not the Norris has an adjuster. Just the sheer weight, thicker blade, higher bedding angle and superior quality craftsmanship of a Norris plane will leave the Stanley for dead. That's OK, it should - especially considering the price you pay for an average Norris plane! Is a Norris better than the new breeds of bench planes being offered by Veritas/Lee Valley, Lie-Nielsen, Bridge City Tools and others? Mmmm, its a contentious issue, but probably not...
But back to the Norris adjuster...
In 1913 Norris patented a unique example of plane iron adjuster. Unlike a Bailey pattern, it was a single adjustment that could regulate both the depth of cut and the lateral position of the blade. While similar designs had been produced in America since the 1880's they were limited to very small production runs by firms trying to cash in on the Bailey phenomenon. It would probably be unlikely, given their limited distribution, that Thomas Norris would have even known of their existence. The new Norris adjusters found their way into the product range as an "optional extra" prefaced by the letter "A". Therefore a Norris number 5 smoother with an adjuster was now a "Norris A5 Smoothing plane."
The 1914 catalog still illustrated virtually all of the product range without the adjusters fitted - the exceptions being the number 50, 52 and 53 planes - whereas the later 1928 catalog shows them fitted, as standard, in many of the planes. The "new" adjustment was featured and illustrated in both catalogs though and it was made clear in the later catalog that the adjustment was not to be supplied as a separate item.
In 1923 a modified version of the adjuster was patented, followed by a further modification sometime in the 1930's. The main differences can be seen in the photograph above.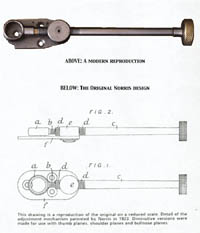 Just why the Norris adjusters are not quite as effective as a traditional Bailey type adjuster is simple - backlash. Because the Norris design features a two-part thread system the adjuster can become quite sloppy over the years due to the wear and tear placed upon it. This means that it becomes increasingly more difficult to achieve an accurate adjustment over time. Of course all of those moving parts need some sort of clearance to work properly without binding, so its almost impossible to eliminate the backlash from an original Norris design.
Obviously there can be a fair amount of sloppiness and play in a Bailey type plane as well but, even with play, its still easy enough to get an accurate adjustment quickly. It's also relatively simple to fix up and "fine tune" a Bailey adjuster so that it works better and with a more positive control over the cutter advancement. Not so easy with an original Norris adjuster.
Sure, it's an ingenious design and it really does work quite well when its brand new and freshly machined but, after a while all of that "left-thread, right-thread meshing together" kinda deal becomes quite annoying to the end user. To a certain extent there are ways around it, and modern makers of infill planes have worked out new ways to tackle the problem. Jim Kingshott, in his book "Making And Modifying Woodworking Tools", felt that much of the problems related around backlash could be corrected by doing away with an adjusting "banjo" mechanism, cutting finer threads (40+ TPI), slotting one side of the swivel block and adding a small Allen screw that could be used to "tighten up" any slackness in the adjuster over time. This idea has since been taken up by other makers as it does go a long way in reducing the amount of backlash in the adjuster.
In summing up though the "real" test is how the new adjusters perform after they've been used extensively for many years. As the old saying goes, "time will tell".
NOTE: Thanks to Steve Elliott for the use of the top picture showing the two styles of adjuster. Much appreciated.